Nous sommes très heureux d'annoncer la mise en œuvre de « Le monde des mathématiques industrielles » (MOMI2019), un atelier de deux jours sur les mathématiques appliquées et industrielles. « Big Data and Machine Learning« .
---
L'INSCRIPTION EST FERMEE.
---
Atelier
MOMI 2019 est un atelier de deux jours sur les mathématiques appliquéeset industrielles qui ont lieu les 25 et 26 février 2019.L'atelier se tiendra au centre de recherche d'Inria Sophia Antipolis-Mediteranée et s'adresse aux étudiants diplômés, aux chercheurs en début de carrière et aux chercheurs seniors intéressés par les mathématiques et leurapplication au monde industriel. Le thème de cette édition sera « Big Data and Machine Learning ».
Au cours de l'atelier, les participants auront l'occasion d'interagir et d'échanger des idées pendant les pauses-café/déjeuner. Une rencontre avec les entreprises sera également mise en place. Le dîner quant à lui sera l'occasion d'explorer plus avant les intérêts communs de recherche et les possibilités de collaborations futures, tout en profitant d'une ambiance chaleureuse.
Jetez un coup d'œil au programme et notez qu'un effort particulier a été fait pour vous accueillir en vous offrant une inscription gratuite incluant l'entrée à tous les séminaires, tous les déjeuners et rafraîchissements, et le dîner de gala qui aura lieu au restaurant Le Transat à Antibes le 25 février.
Organisateurs
Isa Costantini – PhD Student, ATHENA, Inria
Ali Elarif – PhD Student, CASTOR, Inria
Michael Fell – PhD Student, WIMMICS, Inria
Evgenia Kartsaki – PhD Student, BIOVISION, Inria
Selma Souihel – PhD Student, BIOVISION, Inria
Sponsors
MOMI2019 est un projet soutenu et financé par Inria,  par la Maison de la Modélisation, de la Simulation et des Interactions – MSI de l'Université Côte d'Azur, par l'Ecole Universitaire de Recherche « Digital Systems for Humans » (EUR project ANR-17-EURE-004 from the « Programme Investissements d'Avenir »), par l'Agence pour les Mathématiques en Interaction avec l'Entreprise et la Société (AMIES) et par les sociétés OLEA Medical, Thales Alenia Space et Wildmoka.
Cr

é

dits pour l'

é

cole doctorale
Les écoles doctorales (ED-STIC et SFA) accorderont des crédits pour leur participation à MOMI2019. Vérifiez ici!
Orateurs
(en anglais)
Keynote speakers

---
Full Professor at the Engineering school Polytech'Nice
Member of the SPARKS team of the I3S UMR 7271 CNRS-UNS laboratory

Head of MinD research group in Machine Learning and Data Mining
Day: Monday, 25th of February 2019
Title:
From AI to Deep Learning

Abstract:
How can Facebook  instantly recognize your family and friends? How can cameras and mobile phones automatically detect a smile? Have to take an autonomous car for a 100km trip? This conference will try to help grasping the concept of artificial intelligence, will introduce some of the success stories of Machine Learning presenting face detection with boosting, human action recognition with random forests. From artificial neural networks, we will open up to the classic deep network architectures. Some of our own recent contributions on active learning for deep learning, deep network understanding or bio-inspired optimization will be presented.
Short Bio
Since 2011, Frederic Precioso is Professor at the University of Nice Sophia Antipolis (UNS), lecturer at the École d'ingénieur Polytech'Nice Sophia, member of the SPARKS (Scalable and Pervasive softwARe and Knowledge Systems) team of the I3S UMR 7271 CNRS-UNS laboratory. He is responsible of the research group MinD (Mining Data). His main research interests are: (i) Understanding Deep Learning (Active Learning, Bio-inspired optimization and interpretation, Deep Natural Language Processing vs Statistical Text Analysis, Deep Learning and Knowledge, Embedded Deep Learning); (ii) Understanding Inhomogeneity (Semantics from 3D, Semantics from video and from multimedia data, Semantics from the gaze, Semantics in the time series); (iii) Meta-Learning/Meta-Mining (AI on-demand Platform, Multi-Consensus Clustering, Hybridization Machine Learning – Evolutionary algorithms). Since September 2018, he is Scientific and Program Officer for the National Research Agency (ANR) for State Investment Programmes Division and Digital Technology and Mathematics Dept.
---
Professor of Computer Science at the University of Lille
Day: Tuesday, 26th of February 2019
Title:
AI learns to act
Abstract:
The main objective of this talk is to present the problem of sequentially making decision in an uncertain world. This two most well-known problems in this field are the reinforcement learning problem and the bandit problems: both problems will be presented. To achieve this goal, I will also briefly introduce the necessary elements of supervised learning. Overall, I hope to convey an up to date overview of the algorithms and their application on real world problems; I also wish to discuss what can be expected in the (near) future of machine learning.
Short Bio
Philippe Preux is a professor in Computer Science at the Université de Lille since 2003. He does his research in the UMR CRIStAL and Inria-Lille. He has been doing research in AI since around 1992, first about genetic algorithms, then slowly drifting towards machine learning and reinforcement learning. He has created the research group SequeL at Inria in 2006, focusing on sequential decision making under uncertainty. His research is mostly about the design of learning algorithms; he also works in collaboration with researchers in various companies.
---
Associate Professor of the Department of Computer Science at the University of Crete
Co-founder of Gnosis Data Analysis PC
Day: Tuesday, 26th of February 2019
Title:
Automated Machine Learning for Biomedicine
Abstract:
Available data are exploding, presenting new opportunities for science, understanding the system under study, and creating diagnostic and predictive models. However, each data analysis project requires significant human time and effort, as well as deep knowledge and expertise in data analytics. A new sub-field of machine learning is now emerging trying to fully automate the end-to-end process of the analysis, increase the productivity of experts, and democratize analyses to non-experts called automated machine learning or AutoML.
In this talk, we'll present the challenges of AutoML, delve into some proposed solutions, and present our AutoML tool called Just Add Data Bio or JAD Bio. While the talk is generally addressed to people interested in machine learning, data science, and advanced statistical
analysis, the examples and presentation is centered around the analysis of biological and biomedical data.
Short Bio
Ioannis Tsamardinos, Ph.D., is a Professor at the Computer Science Department of University of Crete and co-founder of Gnosis Data Analysis PC, a University start-up. He obtained his Ph.D. from the Intelligent Systems Program at the University of Pittsburgh in 2001. He then worked as Assistant Professor at the Department of Biomedical Informatics at Vanderbilt University until 2006 when he returned to Greece. Prof. Tsamardinos' main research directions include machine learning, bioinformatics, and artificial intelligence. More specifically his work emphasizes feature selection, causal discovery, and automation of machine learning.
Programme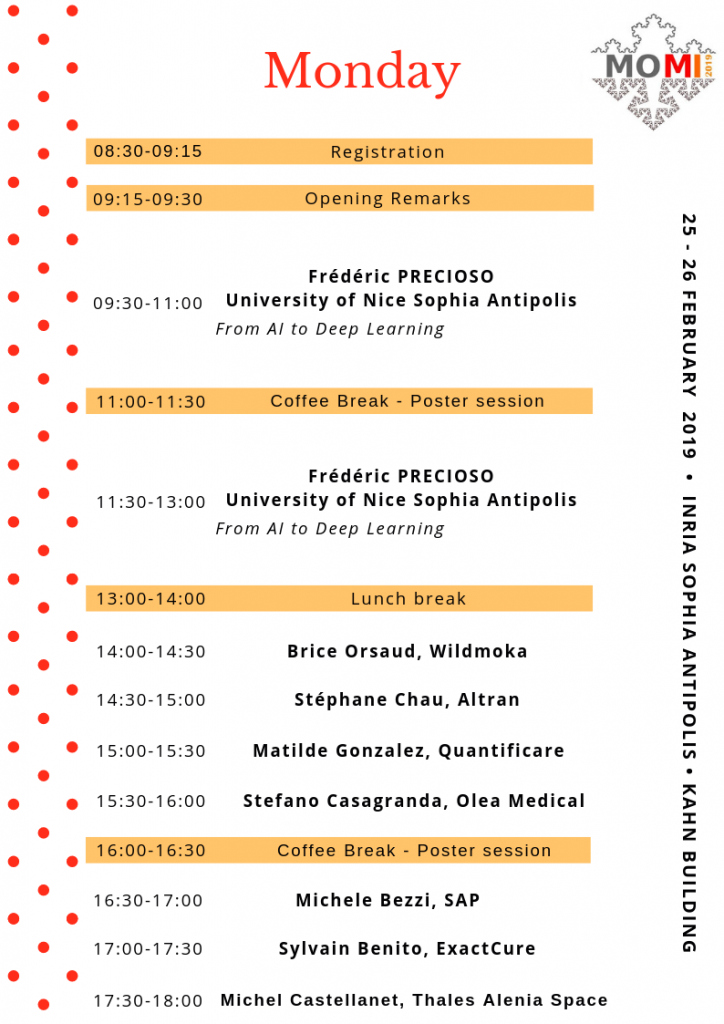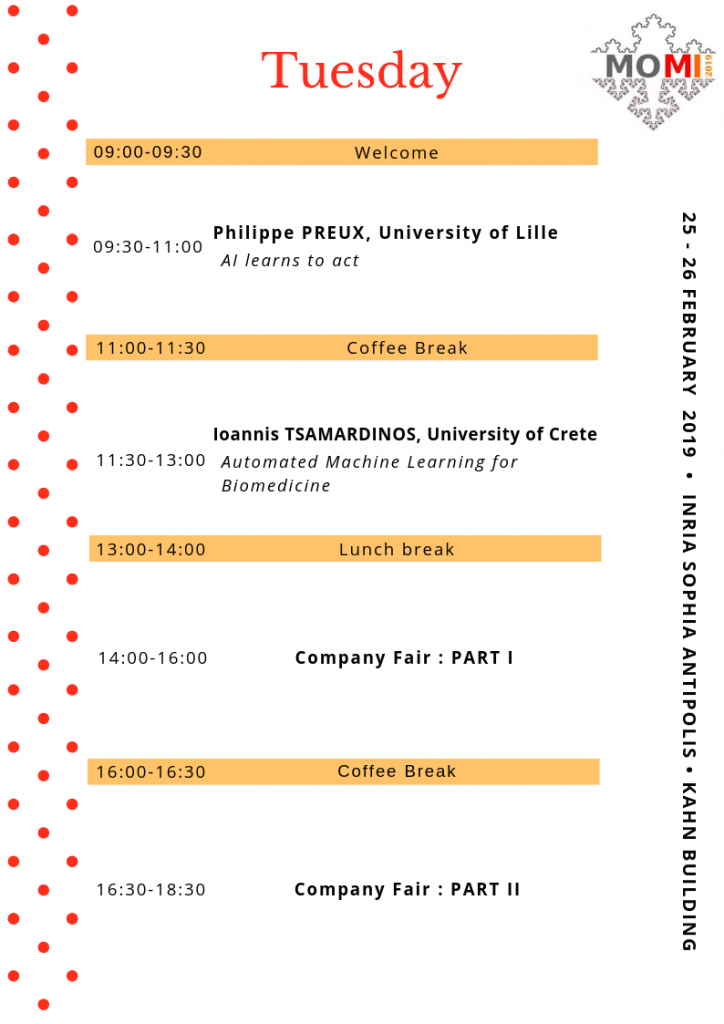 Téléchargez le pdf du programme ici.
Les participants auront l'occasion de présenter leurs travaux lors de la session de posters.
La soumission des posters est maintenant FERMÉE.
La liste des posters est disponible ici.